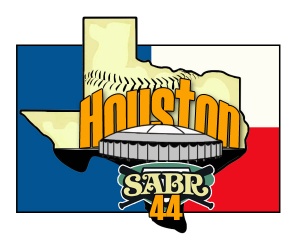 SABR 44
July 30-August 3, 2014
Royal Sonesta Houston
2222 W Loop S Fwy.
Houston, TX 77027
(713) 627-7600
We hope you'll join us for what promises to be a spectacular SABR 44 convention in the summer of 2014 in Houston, Texas. Hotel and conference registration for the 2014 convention is now available. Click here for more information on SABR 44 registration rates, all-inclusive packages, single-day rates, and optional sessions.
Or click here to register for SABR 44.
Wednesday, July 30, 2014  – that's tomorrow, at the point in time of this Tuesday night writing.
David Barron of the Houston Chronicle wrote a beautiful article this morning about this convergence of 700 SABR baseball historians upon the Bayou City. The limitation is – you have to have either bought or borrowed a copy of the Tuesday, July 29, 2014 Houston Chronicle that still contained Section C, Sports, Page 2 – or else had the paper come your way for breakfast by home subscription and delivery  – or have been a paying subscriber to the Chronicle online daily digital version to have seen the whole piece for yourself.
Just in case – here's the link to the Chron.Com digital version. If you do not qualify as a paying reader, the Chronicle online set up will tell you so after you've read a short teaser paragraph:
http://www.houstonchronicle.com/sports/astros/article/Baseball-history-buffs-descending-on-Houston-for-5652877.php
SABR is an acronym for the Society for American Baseball Research. It's 6.000 members are worldwide by location, but, of course, heavily concentrated in the USA, the real cradle of baseball today. Although the idea is offensive to some history professionals, especially those with graduate school and university connections, to consider any others but themselves as historians, we take liberal disagreement with that position at the Pecan Park Eagle in the sense that we all carry a perception of history with us over time, even if it is clouded at times by particular circumstances in our lives. In that sense, we are all historians. As such it is up to all of us to "get it right" by breaking free of our own subjective errors and self-governing mythologies and to seek out the objective truth about history from our best available, first source research data facts – with as much help as we may muster from those who are trained as historians are willing to provide us. Some of us too have been trained in philosophies and procedures of research that are readily adaptable to the requirements of good historical study of social institutions as the American baseball culture.
The Larry Dierker (Houston) Chapter of SABR has just published a three-plus years research project on the early history of baseball in Houston through Bright Sky Press of this city. The result is a 368 page hard cover book. "Houston Baseball, The Early Years: 1861-1961″ is the only comprehensive history of baseball in Houston, actually, from the 1836 very beginning of our city through 1961, the last years of minor league baseball prior to the city's 1962 ascension into the major leagues. 1861 was the earliest traceable year we found for the establishment of the first "Houston Base Ball Club."
The book was researched and written by multiple SABR members, edited by Mike Vance, a dedicated Houston historian and Executive Director for the Houston Arts and Media group, enhanced by the transitional observations of iconic sportswriter Mickey Herskowitz on Houston's growth from minor league to major baseball status, beautified by the colorful factually-based artwork of Patrick Lopez on all three of the city's historical minor league parks, and made possible by the determined and dynamic leadership of SABR Chapter chairman Bob Dorrill and several supportive financial sponsors, plus the sponsorship of SABR National of the work.
Everyone who attends the SABR 44 Annual Convention in Houston will receive a complimentary copy of the "Early Houston" book. About the book, SABR Executive Director Mac Appleman had this to say to David Barron: "This book is a very unusual effort. They (the Houston chapter researchers) have done a terrific job." Those of us on the local level also wish to thank the National SABR staff for sponsoring the publication and distribution of our work as an official SABR project. We shall be forever grateful for your support and confidence in the historical integrity and worthiness of our work.
The SABR 44 Convention is being held at the Royal Sonesta hotel in the Galleria area from Wednesday, July 30 through Sunday, August 03. These days will be jam-packed with panel discussions and special topic lectures, including a welcoming address by Houston Astros President Reid Ryan and other talks by former Presidents Tal Smith and Pam Gardner, and also Bob Watson   Larry Dierkerand. Player panels will be led by Bill Brown, Greg Lucas, and Bret Dolan and they will include former  players Roger Clemens, Bob Aspromonte, Hal Smith, Carl Warwick, Jimmy Wynn, Enos Cabell and Jose Cruz.
Convention attendees will also be treated to a banquet and trips to ball games of both the Houston Astros and Sugar Land Skeeters. Special topic discussions are too numerous to mention here, but they will include a look at the great 1931 Houston Buffs of Dizzy Dean and Joe Medwick, Hank Greenberg's time as a Beaumont Exporter in the Texas League of the 1930s, African-American baseball in Houston, Houston's efforts to land a major league team in the 1950s, and the Astrodome.
If you love baseball, especially its rich linear history, please join us. Single day tickets are available and you don't have to join SABR to attend. If you love baseball history, and you do allow yourself to join us, it could be the start of your life becoming a lot more fun.